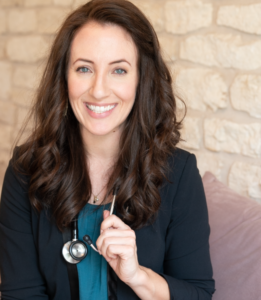 Message from the founder, Meg McElroy MS, PA-C:
"I am a PA.  This stands for Physician Assistant, but for me, it also stands for "Patient/Practitioner Advocate". I am also an IFM Certified Practitioner.
I created this website with a primary focus on increasing integrative/functional medicine support for my colleagues, from those that are interested but haven't made the leap, to those that are fully integrated into an integrative/functional practice.
A few things I like to remind my colleagues of: 1) always ask "why" (aka personalized biochemistry), 2) avoid green allopathy (commonly practiced and gives functional medicine a bad reputation!), and 3) never neglect all aspects of lifestyle medicine (sleep, stress transformation, nutrition, movement, and community), no matter how complex the patient.
I currently practice functional medicine through Parsley Health.  I've been involved in functional medicine since the 1990s (I even worked with my integrative physician, Dr. Fields, at one point!).  As a PA-C, I've worked with various start-up clinics that focused on diabetes and metabolic syndrome, lifestyle medicine, and corporate wellness.  After working with an established functional medicine clinic in Austin, I realized there was a need for high quality, cost-effective care.  I was frustrated with the over-reliance on supplements, expensive unvalidated testing, and the lack of good evidence-based medicine.   I couldn't find any place like this, so I started my own clinic in 2019 .
In December 2020, despite a successful practice, I hit burnout as a business owner.   My decision to join Parsley Health was solidified when I learned that they not only focus on a less-is-more approach, but they also utilize health coaches to help patients "navigate" my recommendations for treatments.  I also love the weekly meetings we have, discussing new research, cases, and more!
I can address most symptoms/conditions, but I particularly enjoy focusing on what I call the G.A.M.E. changers (Gut, Autoimmunity, Mitochondria, Environmental), helping those with unrelenting fatigue, anxiety, insomnia, gut issues, and "brain fog".  When I'm not seeing patients, I'm reading articles on PubMed (yes, I'm a geek!), working on creative ways to support my patients (blog writing, videos, etc), managing a private Facebook group exclusively for PAs and NPs (PAs and NPs in Functional/Integrative Medicine), learning carpentry and gardening, and taking walks with friends and loved ones (virtually and in person!).
Thank you for reading, and enjoy the content I've put together on this site!"