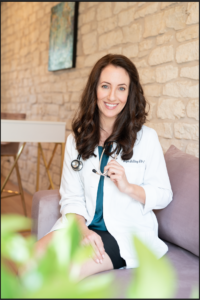 I believe Functional Medicine goes beyond its definition of the pursuit of the root-cause of disease.  Functional Medicine is "smart" medicine that involves using cutting-edge resources in a personalized approach, while forming a partnership with people to get to truly know a patient and what is driving health.  I work with patients to seek and find the sources of dis-ease, to create health through medical wisdom, empathy, and dedication.
In my experience, food and lifestyle are the foundations of optimal health.  If someone does not share this belief, it is very difficult to truly help.  Food can be used as medicine, but when the body is afflicted with something that food cannot fix, we need to treat the cause. This is why functional medicine is so great – we have access to up-to-date scientific information to find the causes, and utilize prescription medications, herbs, supplements and more for treatment.  My years of professional and personal experiences have taught me that infections and toxins are often at the source of an illness in about 25% of our population.  As a result, I focus on thoroughly evaluating the gut and optimizing pathways of detoxification, and am passionate about helping people who have been told they are "unlucky" or that they are "just getting older".
I want to make a difference in the world of medicine, and I do this by inspiring and educating people on how to thrive.  I hope my work in the clinic and outside of the clinic is contributing to the development of a world where everyone can understand that attaining great health is more than pills and procedures.  Being healthy involves effort – health is a journey, not a destination.  My wish is that everyone can experience great health and happiness.
If you're interested in working with me as a patient, contact my clinic, Center for Collaborative Medicine.